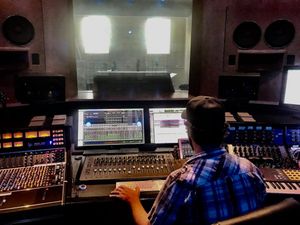 Bio
SEVEN PAST SUNSET is An American Rock band from the Midwest.  Formed in 2017 by singer/songwriter Dustin Hites and guitarist Johnny Krill.
At the time Dustin had launched his own successful solo career,  annually  performing over 150 shows across midwest Oh.  Johnny was on hiatus with his previous band Breaking Grace when long time friend and former booking agent happen to catch Dustin at a ;ocal show .  He was so strongly overwhelmed  by his performance that he called Johnny and had him listen on speaker phone as he finished his set.  The following week the two meet up at a wine bar  and began discussing their future aspirations of joining forces!
They began rehearsing and combing their catalog of songs.  They came up with 7 that they decided to take into record at Soup Can Studios in Detroit Mi. with Producer and  Engineer Andy Patalan - (Sponge - Taproot - Ted Nugent).  The self titled debut album was  mixed and mastered in late 2018 in Windsor, CA at SLR Studios by Martin Bak - (No Resolve- Ghost of August - Autumn Kings).
The studio lineup included now former members Brandon Gill on drums and Randy Johnson on bass.  After the recordings were completed auditions were conducted and former front man Jeremy Rober of (Breaking Grace)  was brought in on  bass/vocals. The last piece of the puzzle was local drum sensation Scottie Vining formerly of (In Theory).
 The band is currently preparing for the upcoming release of there debut single "Overwhelmed" which is set to release in mid-March. Accompanying the single will be a full-length video filmed in Dexter, Mi with producer Drake Whelton of White Knuckle Films.  Following up the single release will be their self-titled 7 song EP, expected in early May.
SEVEN PAST SUNSET has set their sites on 2019 as the time to unleash itself to the world. Their songs have transpired and been inspired by real life trials and tribulations.  They believe there is some hope and inspiration in these songs for everyone.   Keep a close watch on this Michigan-Ohio based quartet as they bring their brand of Hi-octane Rock & Roll to a venue near you!